CREATE Research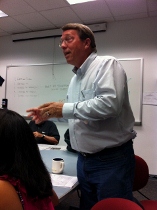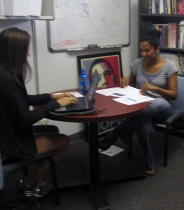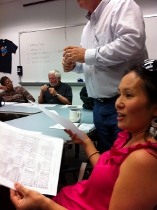 CREATE employs full-time research staff and a growing team of doctoral and undergraduate student researchers. As we network to the region's schools, educators, and youth-serving organizations, we also pursue a data-based regional understanding of efforts to support young people and teachers and, of the factors affecting youth and teacher development in our region.
CREATE prides itself on providing quality and cost effective research and evaluation services, with a particular focus on the success of students underrepresented in higher education. Our program evaluation and research group is dedicated to providing independent and rigorous evaluation of educational programs. We are available to help research and evaluate interventions for student and teacher development. 
CREATE has extensive experience conducting quantitative and qualitative research and evaluations, including mixed methods research on professional development, district-wide reform initiatives, school-based programs and partnerships, and university programs and courses. CREATE's expertise includes analysis of school district databases; employing student-level data to track student achievement; use of teacher and student-oriented assessments; and analysis of qualitative/quantitative data from surveys, interviews, focus groups, classroom observations, fieldwork, and instructional materials.
We have served as researchers and evaluators on grants from the Carnegie Corporation, the Bill and Melinda Gates Foundation, the Spencer Foundation, the Ford Foundation, the U.S. Department of Education, the National Science Foundation, the Howard Hughes Foundation, the Department of Defense, and the California Subject Matter Project in Science, as well as state agencies and local foundations. Please approach us as early as possible in any grant process so we can support you properly in project design and evaluation thinking.
Every day, CREATE researchers research and evaluate efforts to support San Diego's diverse next generation (see our Recent Publications). We also continually analyze data on the local K20 pipeline to college and career, so that we can help shape UC San Diego's education outreach and interventions.
We see the San Diego region as a network of partners working to support young people's development. Our goal is to understand local education needs and promising efforts, so that the region's partners can work methodically to improve education.
We care about questions like these:
What is the full set of factors affecting young people's college and career pathways in San Diego?
In what subject areas are there particular "leaks" in the education pipeline? 
Where in the region are there exciting successes?
How might UC San Diego-based initiatives most effectively support underrepresented students' successful pathways through the K-20/career "pipeline," and support local teachers?
How can exciting local successes in teaching, school reform, program design, and teacher professional development be adapted by others in our region?
Recent work at the Center has included studies of the non-traditional college and career pathways of local youth, and the barriers complicating those pathways; studies of online college preparation courses offered by EAOP to low income students; and a host of summer interventions offered by UC San Diego partners for high-need students and teachers (see our Recent Publications). 
If you'd like to research how your own partnership or outreach effort might have the most impact on student success, email Mica Pollock, Director (micapollock@ucsd.edu) or Susan Yonezawa, Associate Director (syonezawa@ucsd.edu), or Larry McClure, Research and Evaluation Coordinator (lmcclure@ucsd.edu).