Outreach & Recruitment
Background and Context
CREATE was formed at UC San Diego as a result of a Task Force on K-12 Outreach in the late 1990s, to help increase the university's outreach in underrepresented communities - and specifically, in schools that serve underrepresented children and youth. To CREATE, "outreach" means supporting college preparation and information efforts, and enhancing opportunities to learn for San Diego students and their teachers.
Today, CREATE works to help network UC San Diego's substantial resources effectively and efficiently into the schools and community, achieving maximum support for local students and schools. Through shaping outreach to students and teachers by UC San Diego, we work to support local underrepresented youths' successful K-20 pathways toward college and career.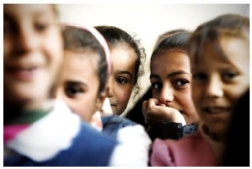 CREATE-based Academic Preparation Outreach Programs
CREATE hosts two important outreach programs that work directly with the region's high-need students: 
Early Academic Outreach Program (EAOP) and TRIO Outreach Programs.
Both programs employ UC San Diego undergraduates as supporters to the region's students.
Today, CREATE also supports many UC San Diego colleagues' efforts to prepare and recruit underrepresented students at the undergraduate and graduate levels, and to implement new programs to increase student retention and graduation rates.
CREATE focuses on supporting UC San Diego colleagues' outreach, recruitment, and retention efforts:
We support UC San Diego undergraduates to tutor, mentor, and undertake other forms of student support through UC San Diego college-based service learning programs (at Thurgood Marshall, Eleanor Roosevelt, and Muir Colleges; see below), and through links to practicum, service learning and student-run programs across campus;
We "matchmake" UC San Diego outreach opportunities to the needs of local schools/districts/programs/educators;
We help UC San Diego and community partners design and assess their efforts to serve, recruit, and retain high-need and underrepresented minority students; See CREATE STEM Success Initiative and Research and Evaluation;
We host, assess, and design informational and educational programming (both on and off campus) designed to motivate students, inform parents, and enhance students' academic preparation for admission to UC San Diego and post secondary education.
If you'd like to discuss how your own outreach effort might be shaped to have the most impact on student success, or evaluated for its impact on students and teachers, email Mica Pollock, Director (micapollock@ucsd.edu), or Susan Yonezawa, Associate Director (syonezawa@ucsd.edu).
CREATE-supported UC San Diego Service Learning Programs for Undergraduates
CREATE also supports a number of outreach projects linking UC San Diego undergraduates to local high-need students.
We partner with Thurgood Marshall College (TMC) in a volunteer intern program. The TMC/CREATE School Partnership Program seeks volunteers to serve in classroom and non-classroom positions at partner school sites, the Preuss School at UC San Diego and Gompers Preparatory Academy. Volunteers support students at these high-needs schools, where educators use innovative and effective methods of shaping positive outcomes for low-income, first-generation college-bound youth. Available positions include school counseling, Dean's office, special education, student services, registrar, teaching assistant, and more. As part of a well-connected community invested in education, participants will gain professional contacts and work experience that provide an excellent gateway into future job opportunities and graduate programs. Volunteers make a one-quarter commitment with opportunities offered fall, winter, and spring quarters. Contact (partnershipschools@ucsd.edu), for more information.
Math Tutor Corps at Eleanor Roosevelt College
The Math Tutor Corps at Eleanor Roosevelt College (ERC), brings together several UC San Diego organizations in order to support math students at Lincoln High School. ERC students take a 2-unit course (ERC 89) and learn how to tutor mathematics from some of the county's best high school math teachers (recipients of the prestigious Math for America San Diego Master Teaching Fellowship). While they are taking the course, the students serve as tutors for Lincoln High School students in math classes for at least four hours each week. Students work primarily in algebra and intermediate algebra classes at Lincoln, courses where the greatest need exists. The UC San Diego students acquire real-world skills as math tutors while making an important contribution to a UC San Diego partnership school. Contact ERC/CREATE Math Tutor Corps Program Coordinator (mathtutorcorps@ucsd.edu) for enrollment information.
College Academic Mentoring Program
The College Academic Mentoring Program (CAMP) is a collaboration between CREATE's Early Academic Outreach Program (EAOP), Muir College and UC San Diego's Department of Education Studies. The four-unit course readies UC San Diego students for onsite academic advising and mentoring to students at Castle Park, Clairemont, Gompers Preparatory and San Diego High Schools and King Chavez Academy. Gain real-world experience working with a diverse student population, including first-generation college applicants historically underrepresented at schools of higher education. CAMP students meet once a week to learn the theoretical framework of academic outreach, mentoring procedures and academic advising techniques and six to eight hours per week onsite at a partnership high school. Contact Rafael Hernandez, EAOP Director (rshernandez@ucsd.edu) for enrollment information. 
The Partners at Learning (PAL) Program through UC San Diego's Education Studies Department offers undergraduates an opportunity to get involved in K-12 schools, and earn course credit for that participation. PAL participants are placed at one of over 40 partner schools throughout San Diego, and serve as tutors and mentors to students for one quarter. Advanced PAL courses place students as design researchers helping local educators and students investigate issues of educational importance. Learn about the variety of PAL courses offered throughout the academic year. Contact Melissa Wolf, PAL Coordinator (mawolf@ucsd.edu) for enrollment information.
Additional UCSD Outreach Projects, Information, and Resources
We continually cultivate partnerships with outreach efforts across UC San Diego in an effort to make collective impact on local education opportunity and outcomes. Our CREATE STEM Success Initiative is our newest collective effort.  Campus partners include: